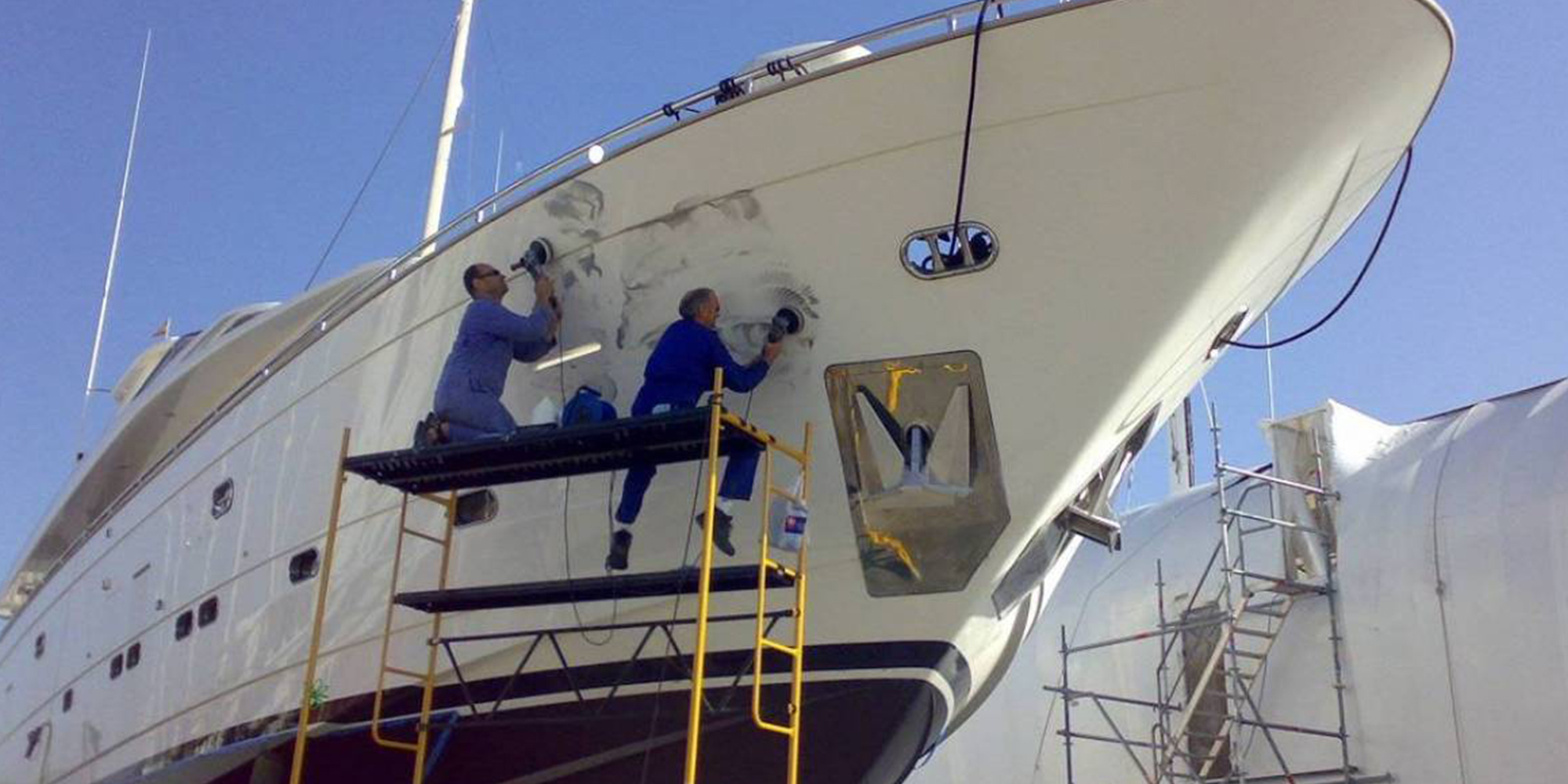 Restoration, repair, equipment installation, supply of spare parts and accessories, all have their place in Island Yachts Broker. Services designed so that your only concern is: BOATING.
Our programme includes an extensive catalogue of resources for renovating, repairing and maximising a boat's performance, you only need to select those options which best meet your requirements. The following is an outline of the most notable options Island Yachts offers:
Topside
Renewal of teak and wood finishes on deck; replacement rigging, railings, steps, awnings; gelcoat reparation and polishing: new portholes and hatches; hull repaint, new accessories installed (stern cockpit benches, cushions, winches…)
Underwater side
Reparation of hull, antifouling; replacement of zinc anodes; updating the propulsion and steering mechanisms.
Equipment
Installation of new engines, instalment or replacement of navigation equipment (plotter, radar, depth sounder, automatic pilot, updating mechanically operated controls with electric…); instalment of new electrical appliances (fridges, microwave ovens, ceramic hob, washing machine, dish washer…); increased supply of energy and electricity (generator, current inverter, additional 12V and 220 V sockets…); improved interior comfort (air conditioning, heating, electric toilets, entertainment systems…)
Interior refurbishment
Restoration or modification of furniture and interior layout, renewed upholstery and decoration, etc.
Planning to alter, repair or refit the yacht? Hoping to complete the project without a hitch, within the agreed budget, time schedule and within the law? Our professional team has a depth of knowledge and proven track record that has made ​​us the provider of choice for many owners boat in Menorca. Contact us!
Boat checking routines
Most people think of daily checks as being limited to a quick once over of the engines, but we prefer to extend it to the boat's other vital systems too. After all, it's no use having engines that run like clockwork if there's water pouring through an open window in the guest cabin.
To help remember the essentials we start our boating day with the B.E.S.T. routine.
Batteries: Switch on and check for any sudden current drain on the gauges.
Exercise the seacocks so you know that they are open before you start the engines but can be closed in an emergency. Same with the portholes, but this time check they are closed before going to sea.
Shore-power: Switch off and disconnect. Check the cable's condition before stowing as mains electricity can kill.
Test: Start the engines, check gear engagement (just for a millisecond) and make sure the thrusters are working.
You'll find the recommended daily checks and a schedule for the detailed service checks in the manufacturer's handbook, but here is our personal list of checks to ensure peace of mind and good reliability. Once again we use and acronym, W.O.B.B.L.E. to remember what to do:
Water: Check salt and fresh. Most marine engines have two types of liquid in them. Fresh water coolant, which circulates round the central block and some of the ancillaries, and raw water from the sea, river or lake, which chills the coolant in a heat exchanger before being spat out at the exhaust. Nine out of ten overheating problems stem from lack of water flow. This can happen quickly if, say, you suck in something which blocks the filters, or slowly from the gradual build up of debris in the system. Check the raw water strainers are clear of debris, such as weed and plastic bags, and the fresh water coolant levels (inset).
Oil: Check level and quality. Engines love oil, but not just any old oil. The correct type of oil is just as important as the level, as it not only lubricates the moving parts but also cools some of the hottest and most expensive components. This daily oil level check is the most important of all. It needs to be between the marks on the dipstick. Overfilling your engine can be just as damaging as letting it drop too low. Make sure you use the correct grade and type of oil (mineral or synthetic)- if it is too thick or thin it won't do its job properly.
Belts: Taught with no black dust. Most engines have some form of drive belt, either a simple one to drive the alternator, or longer Poly belts driving superchargers, water pumps, power steering pumps, etc. It doesn't matter if it's a Poly belt or a more traditional V belt, they all need the correct tension.
Batteries: Secure and topped up. Batteries are not totally maintenance free, despite what some manufacturers claim. "Maintenance free" just means it can't be topped up as the caps to the cells are sealed. If you always leave your battery charger on, even on the smart ones, your batteries will gradually lose a small amount of liquid, which can lead to premature failed. More common are problems from loose connections or corrosion of the terminals, so a quick look to ensure nothing is loose and they are still well secured is worthwhile.
Look for leaks, chafing, damage, etc. Looking around the engine bay can give an early indication of a potential problem. Your fuel filters are especially important.
Exhaust: Is cooling water exiting? The colour of the exhaust can be a great help in determining engine heath.
Get into the habit of checking the same things after a run out as well as before. It could save a wasted morning on your next visit!
In short, if you need a boat maintenance service in Menorca, your reference company is Island Yachts Broker. Contact us at 971 35 13 97 or at 628 715 090. We listen to you!